Hydraulic Guillotine shear
Features
1.The machine adopts full steel weking structure,heating to eliminate stress,with high strength and good rigidity.
2. The German large floor boring and milling machine is used to make recision machining with one time processing
method to ensure the machining precision.
3.Advanced integrated hydraulic system with and excellent reliabitity quality.
4.Rapidly,accurately and conveniently adjusting the blade clearance by motor
5.The adjustable rake angle can minimize plate deformation.
6.As the cutting beam has been designed in inner-inclined structure,it is easy for plates to fall down and the accuracy of products can be also guaranteed.
7.Shearing in sections,shadow-line cutting.
8.Counter for the motorized back gauge.
9.Back support device (optional). Hydraulic Guillotine Shearing Machine, Steel Plate Cutting Machine

Cutting length from 2000mm to 13000mm
Cutting thickness from 6mm to 60mm Hydraulic Guillotine Shearing Machine, Steel Plate Cutting Machine Precision
Hydraulic Guillotine Shearing Machine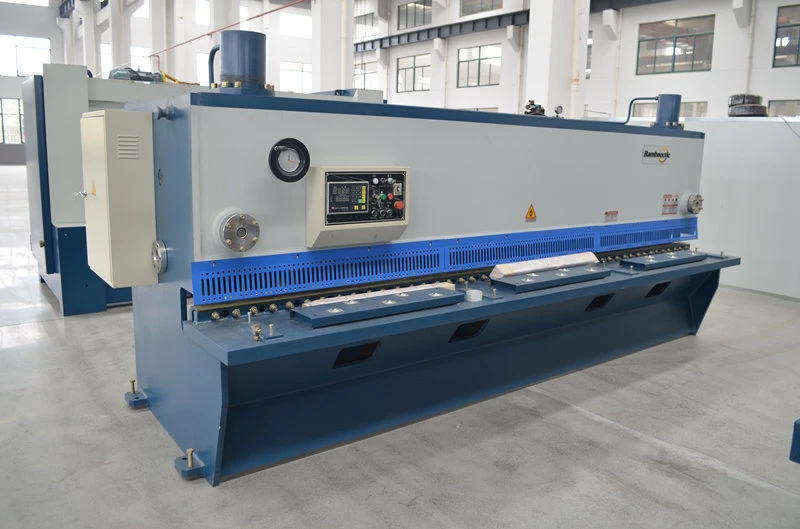 Controller
Estun E21s
----HD LCD display, with both Chinese and English language options, a display programming parameters, faster and more convenient programming
----Backgauge control:Smart positioning, can also be manually adjusted as needed to remove the mechanical hand positioning device.
----Cut Stroke: Built-shearing time relay, simple operation, cost savings
--Shear angle: Built shear angle adjustment function, eliminating the angle indicators and buttons
----Blade gap: encoder feedback, time display blade gap size, simple operation
----Having a key parameter backup and restore functionality, you can always restore the parameters as required, reducing maintenance costs
----All keys on the panel are micro-switches, through EMC, high temperature, vibration and other rigorous testing to ensure product stability and service life.
----CE certified to meet the needs of overseas markets.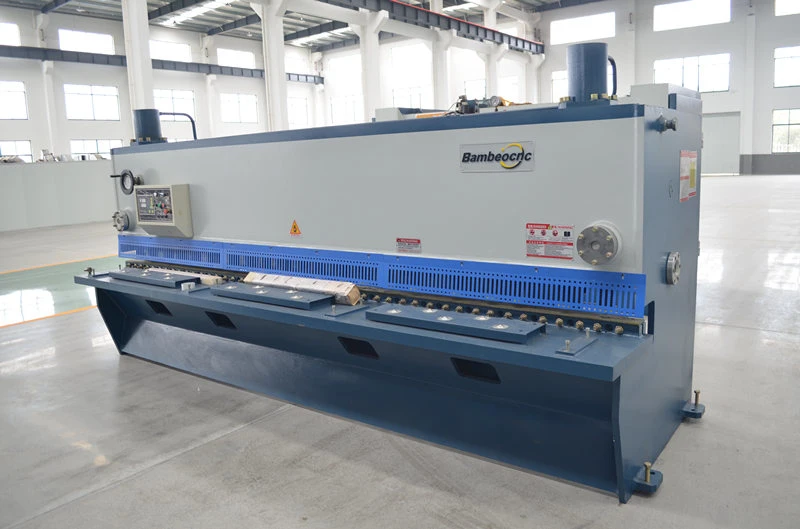 Standard Configuration
1.
Controller
Estun E21 Controller
2.
Hydraulic System
Bosch Rexroth From Germany
Hydraulic system:
--Adopt integrated hydraulic control system, more reliable and easy for maintenance.Hydraulic system is from Bosch - Rexroth,Germany.
--All seals in cylinder is PARKER from USA,the most famous brand,good quality and high performance
--Overload overflow protection is outfitted to hydraulic system,which can assure no leakage,and the oil level can be read or seen directly.
--The hydraulic system is made in compliance with current regulations (Directive 98/37 EC).
3.
Main Motor
Siemens From Germany
4.
Main Electrics
SCHNEIDER from France
Electrical system and the safety interlock:
--Electrical Cabinet under the standard of IP65, Electrical under international CE Standard, safe and reliable, strong anti interference capability
--Protective fence and the safety interlock to ensure the operation safety. Have a movable single-hand pedal switch,easy to operate
--Front Side Covers with safety switches, Back light safety guards (Category-4),Foot pedal conforming to CE regulation.
5.
Seal Ring
NOK From Japan
6.
Pipe Connector
EMB From Germany
7.
Ball Srew
Hiwin From Taiwan
8.
Limit Switch
SCHNEIDER from France
9.
Pump
Sunny From USA
10.
Foot Switch
Karcon From South Korea
No
Items
parameters
remarks
1
Upper Down blade
2
set
3
Bolt &Nut
8
4
feet nut washer
4
5
Allen wrench&Grease Gun
1 set
3 to 14 mm (maintenance tool)
6
technical documents
certificate of the product, including operation and maintenance manual, electrical, hydraulic schematics, purchased parts inventory, basic maps, packing list.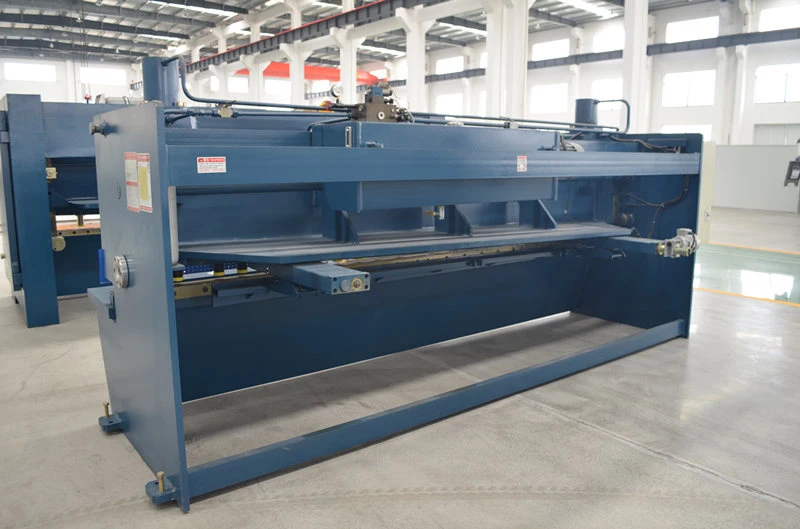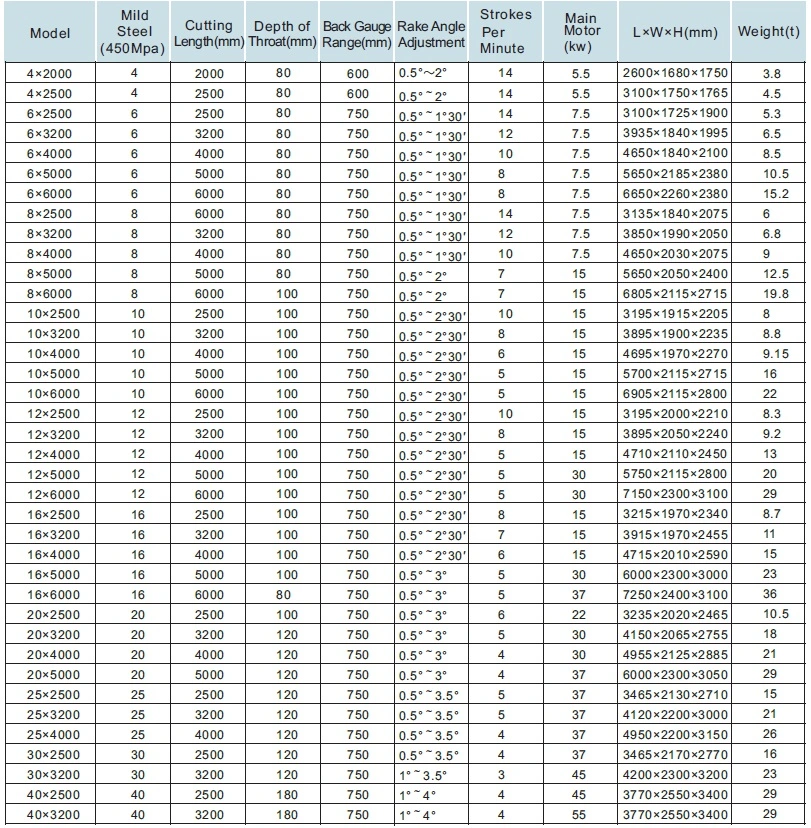 FAQQ1:How Can I calculate the Machine Capacity?
A: Just send me the Max thickness and Length .Engineer will tell us the capacity directly
Q2:How about the machine warranty?Is the whole machine?
A:We canoffer 4 years warranty for the following parts :
--Hydraulic System with pump and Valve
--Hydraulic Cylinders
--Electric units
--Hydraulic Cylinders
--Gasket Ring( We will send you extra with the machine also )
--Tube Connector
--Control Button
--Limit Switch
--Controller
During the warranty period we provide any accessories for free
Q3: What is your MOQ?
A:To let more customer know our quality, we accepty trial order service,So the MOQ is 1 set.
Q4: what is your delivery time?
A:We supply prompt delivery time:30-35days.
Q5:What kind of Service does your company support?
A:Engineers Available to Service Machinery Overseas