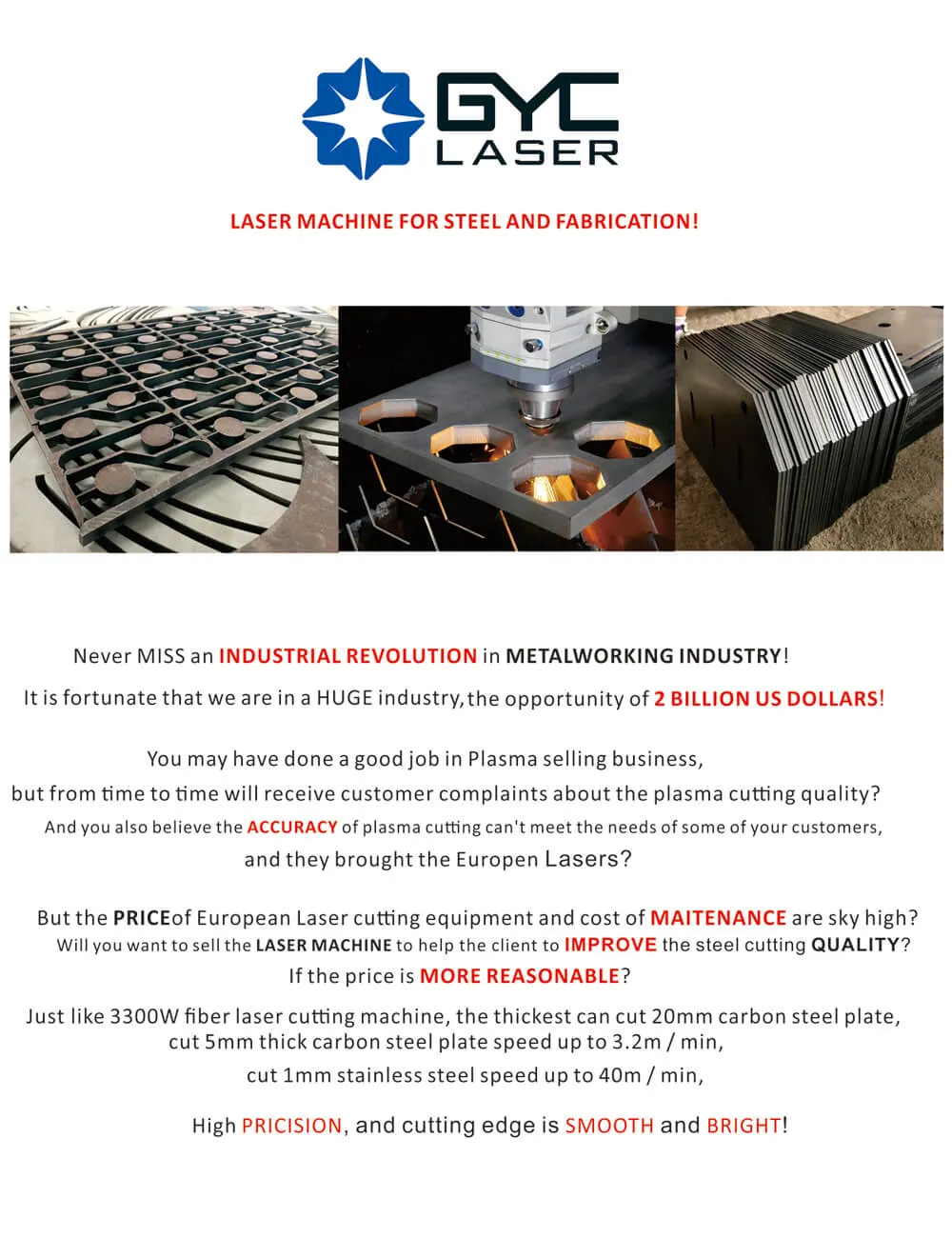 GYC LASER Fiber Laser Metal Cutting Machine
1. Steel plate welded industry machine, 600
ºC
heat treatment, long life span up to 20 years.
2. Open design, easy loading, and unloading
3. Dual French Schneider servo drive fast speed running
4. JAPAN SMC & AIRTAG Pneumatic components,perfect low pressure Oxygen cutting and high pressure Nitrogen cutting
5. CYPCUT Intelligent control, User friend operating software
6. Aluminum Casting X Axis gantry ensure fast speed and high accuracy.
7. It is driven by world class precision gear rack and linear
guide
to
achieve
high precision, high efficiency and stability of the machine.
8. Equipped with the most advanced wireless handheld terminal for remote processing device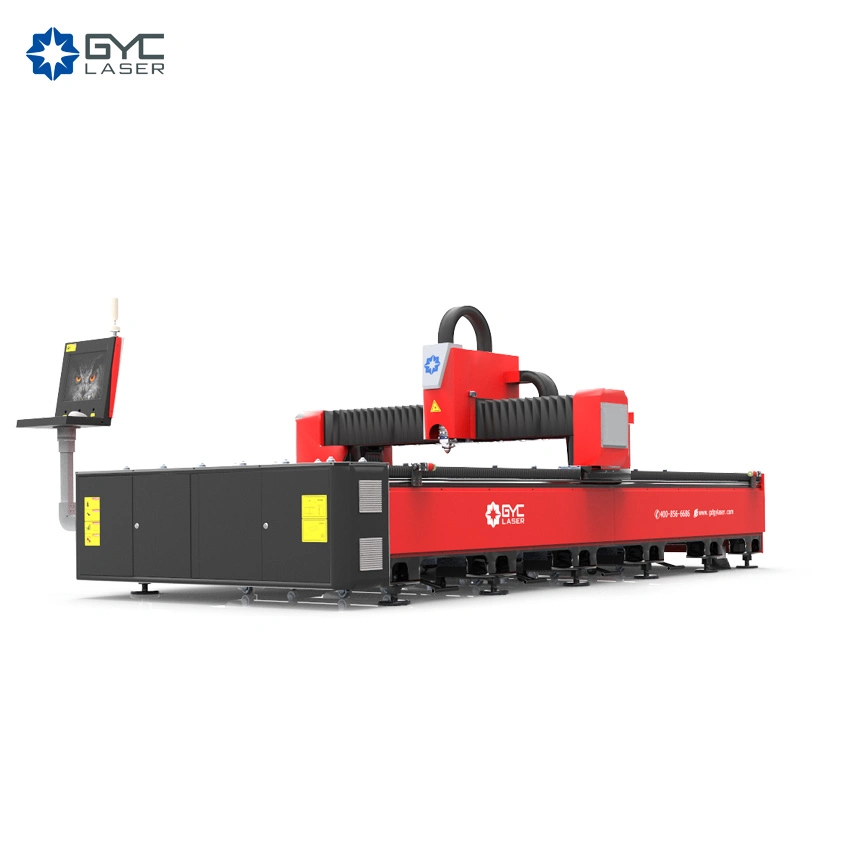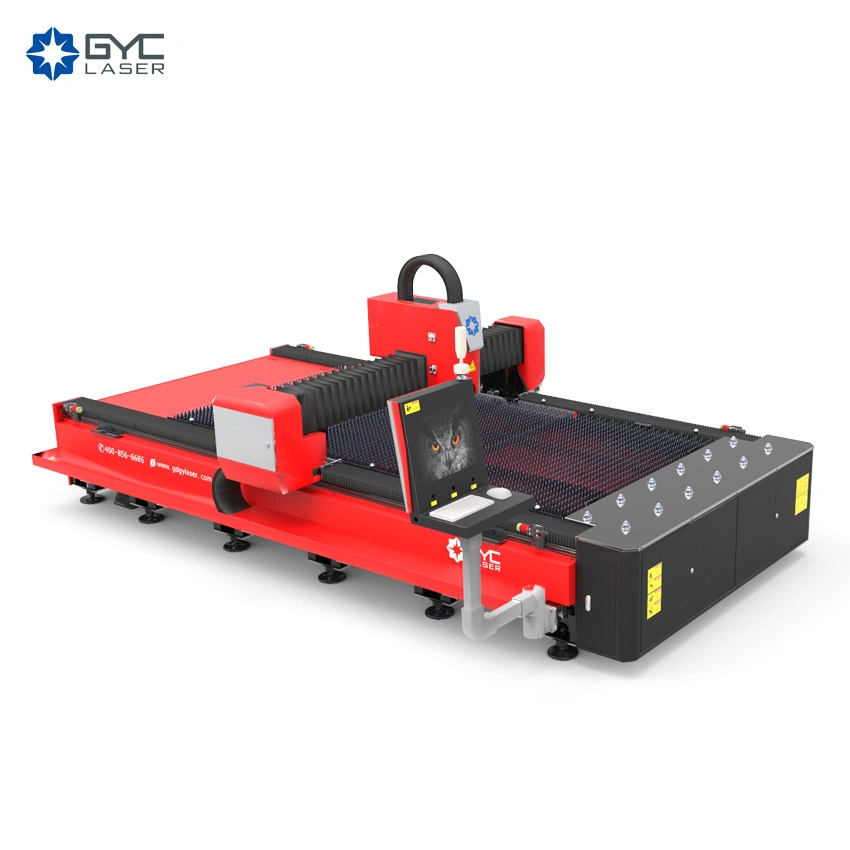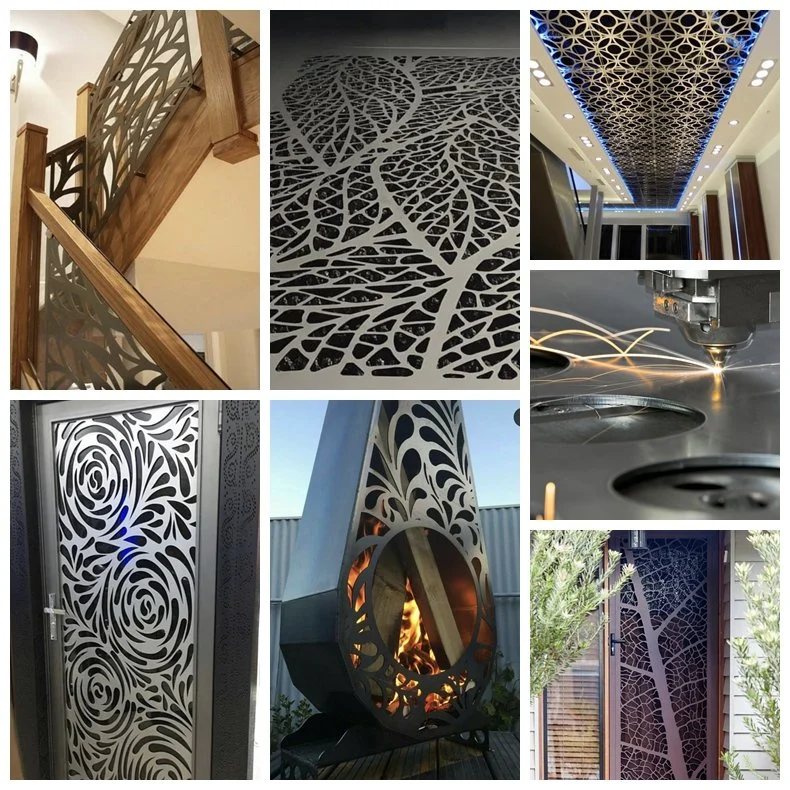 YOUTUBE VIDEO

FAST CUT GY-1530FC
https://youtu.be/sA88hkMHrGM
PRO CUT GY-1530FD 1000W AT INDIA
https://youtu.be/8GVgWMkY7zA
PRO CUT GY-2340FD 3300W
https://youtu.be/YeVh_2dEGIE
SUCCESS IN MEXICO
https://youtu.be/MlHzdzBq5Po
ADVANCE CUT GY-1540FD-R
https://youtu.be/U80bZJAzjgQ
| | |
| --- | --- |
| Product Name | fiber laser cutting machine |
| Model | GY-1530FC |
| Laser Output Power | 500W/1000W/2000W |
| Working Are(length*width) | 1500*3000mm |
| X Axis | 1500mm |
| Y Axis | 3000mm |
| Z Axis | 100 mm |
| Fiber Laser | IPG/Raycus |
| Max Moving Speed | 80m/min |
| Max Cutting Speed | 25m/min |
| Positioning Accuracy | 0.03mm |
| Repeated Positioning Accuracy | 0.02mm |
| Cooling Type | Water cooling |
| Min Line Width | 0.1mm |
| Drive System | Servo motor |
| Power Allocation | 380V/220V±10%, 50Hz/60Hz |
| Continuous Working Time | 24 hours |
| Weight of Machine | 3200KGS |
| Machine Size (l*w*h) | 4.5*2.6*1.8m |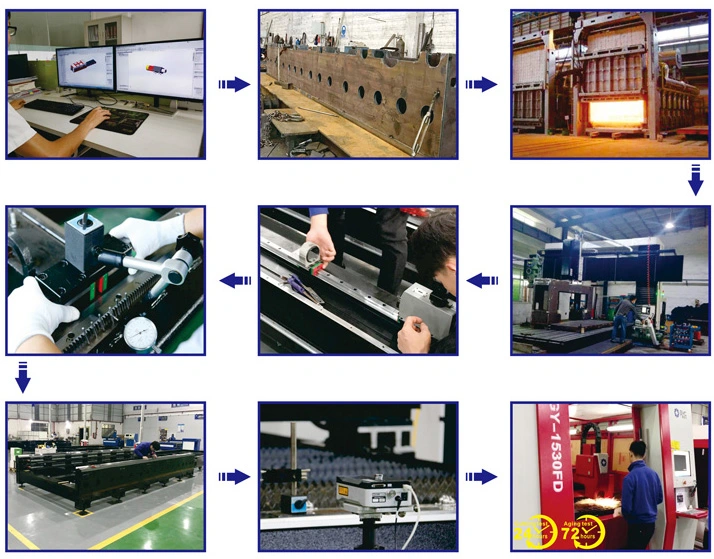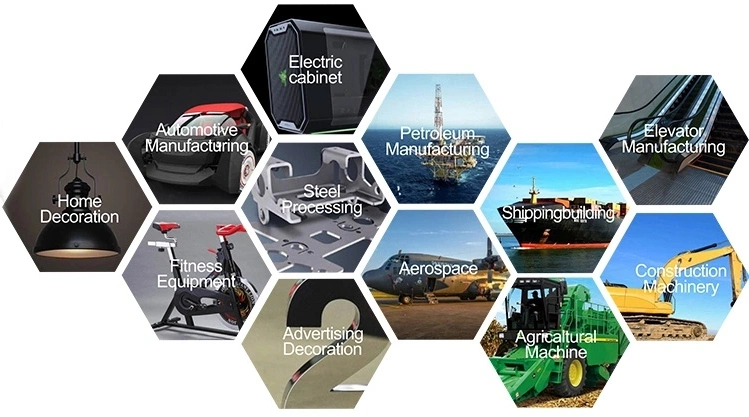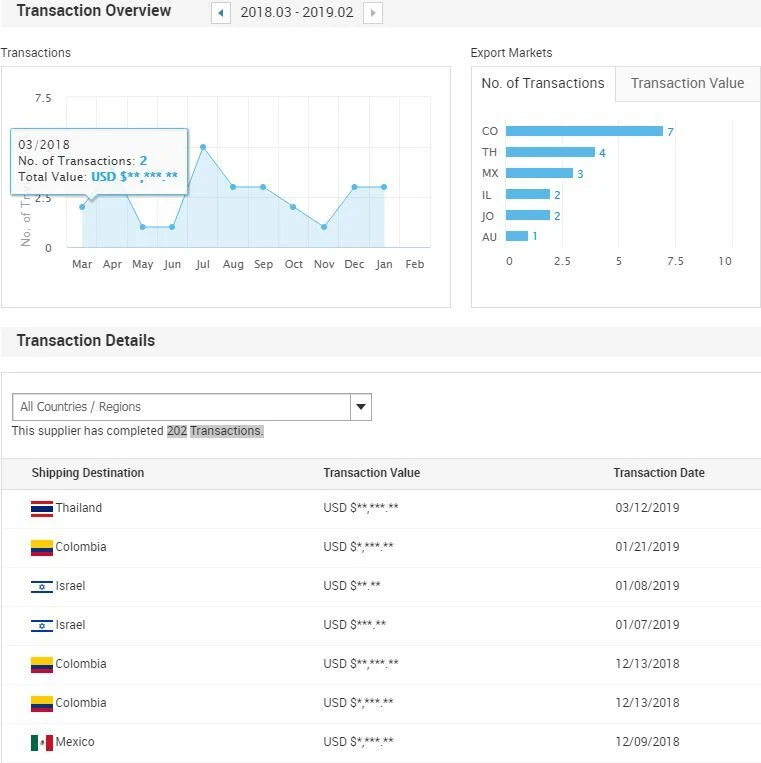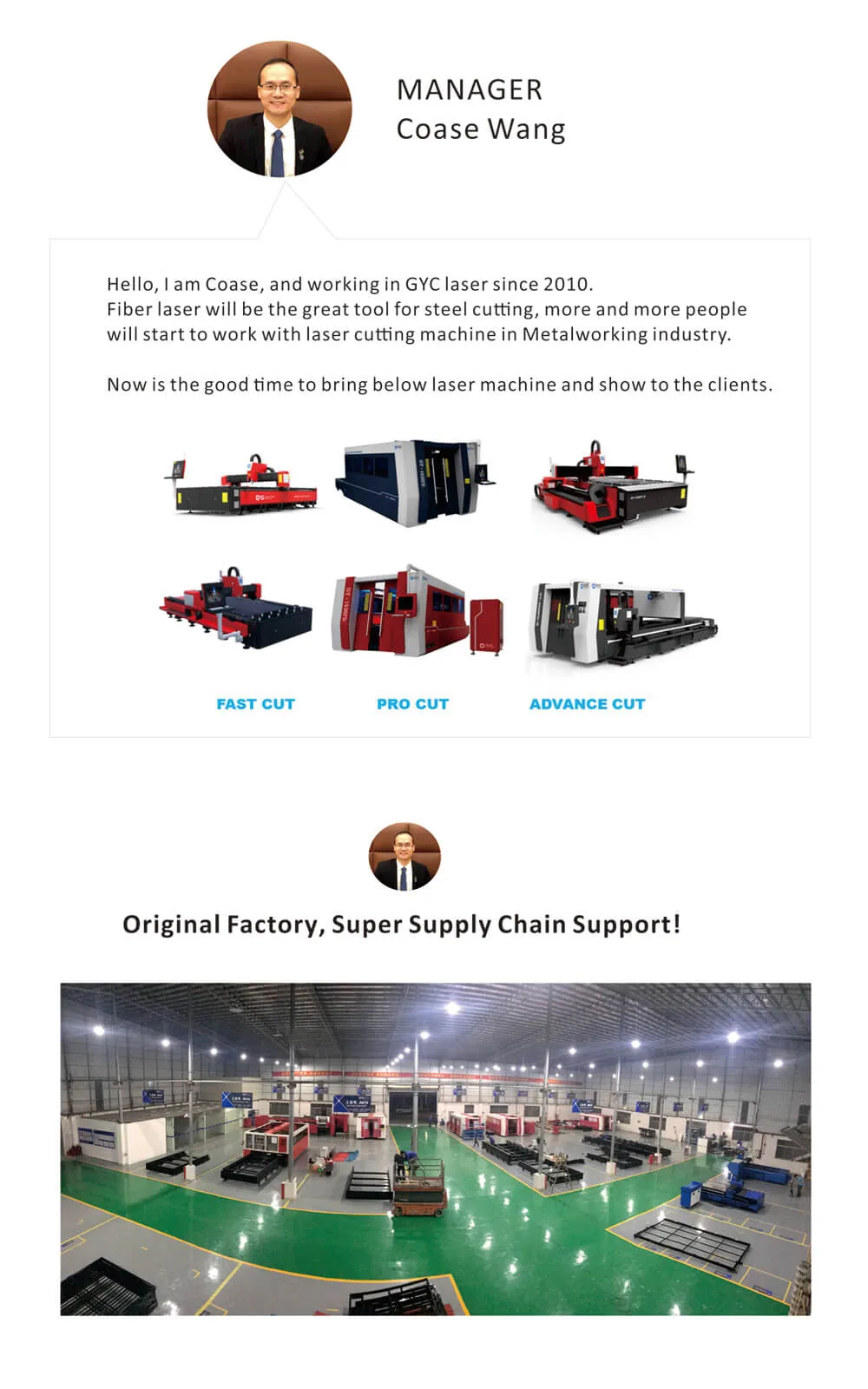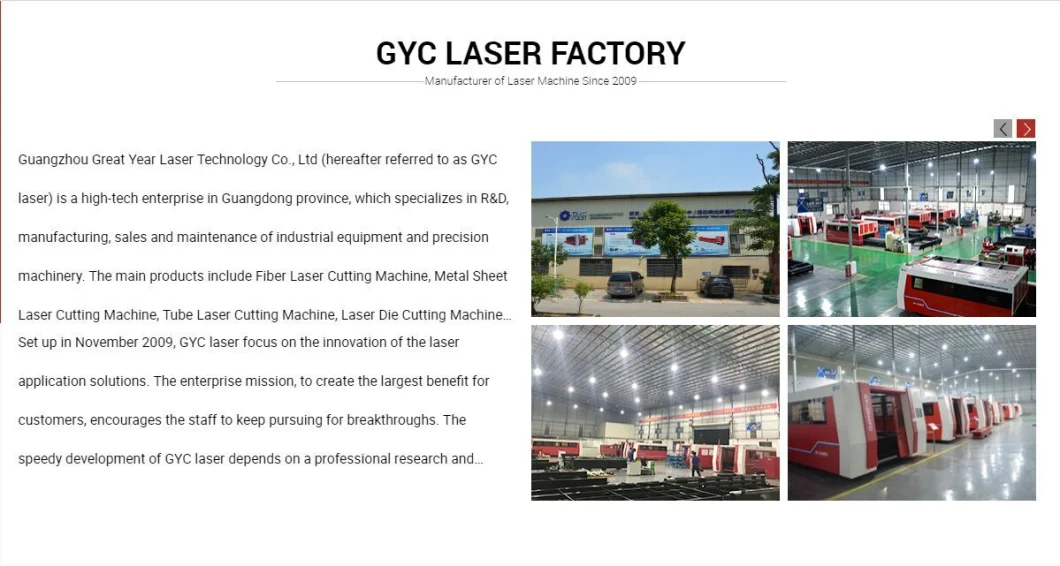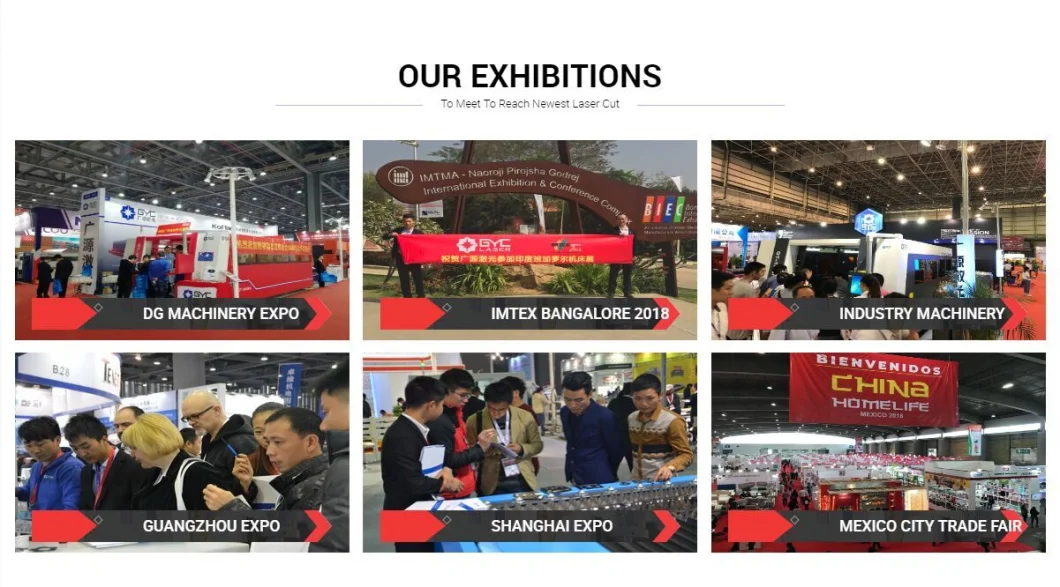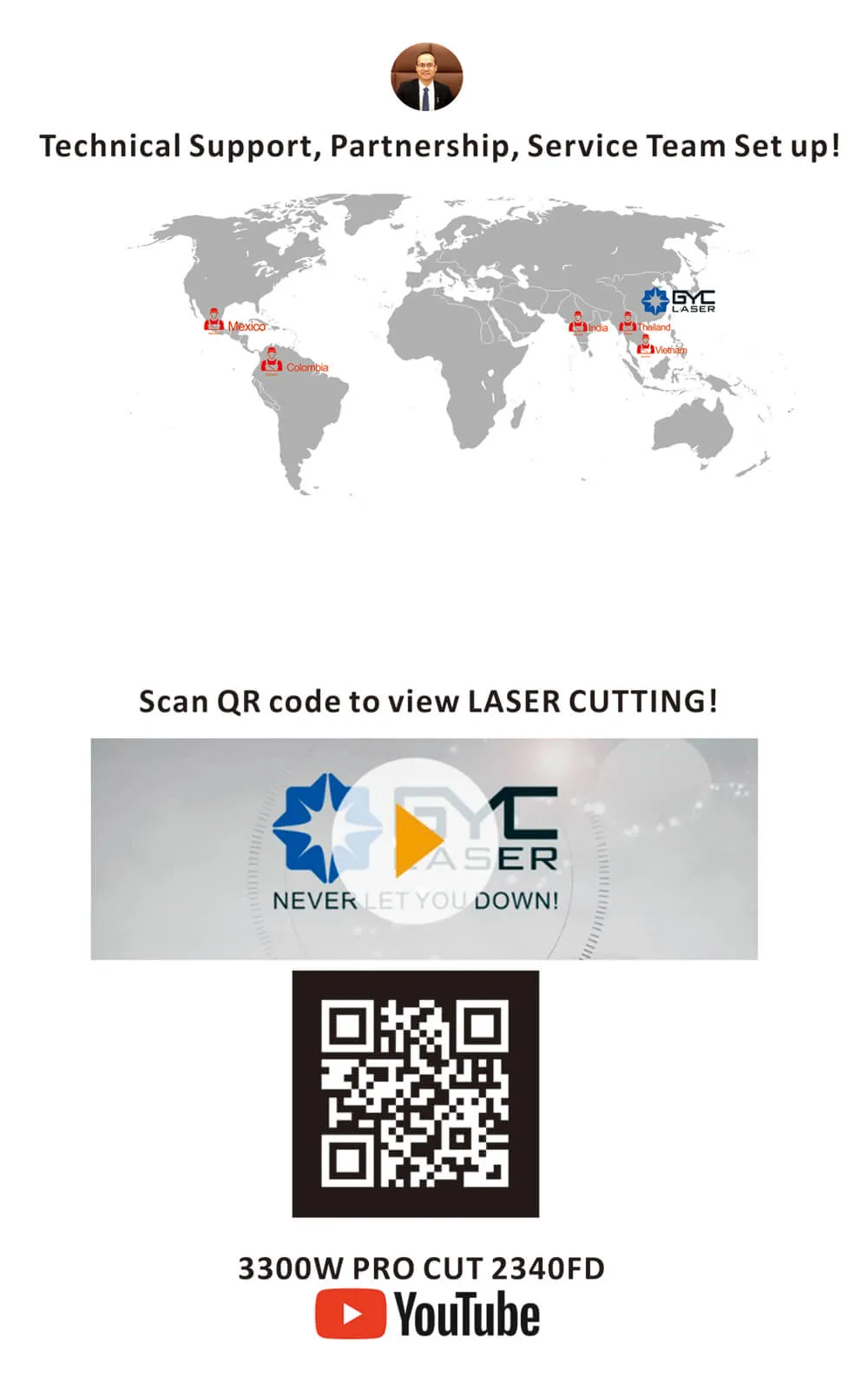 SEND INQUIRY NOW TO WORK WITH THE DIRECT LASER MACHINE FACTORY.
FAQ OF FIBER LASER CUTTING MACHINE
What is Laser?
A laser is a device that emits light through a process of optical amplification based on the stimulated emission of electromagnetic radiation. The term "laser" originated as an acronym for "light amplification by stimulated emission of radiation"
For more please visit https://gyclaser.en.made-in-china.com
What is Laser Cutting?
Laser cutting is a technology that uses a laser to cut materials, and is typically used for industrial manufacturing applications,
Industrial laser cutters are used to cut flat-sheet material as well as structural and piping materials.
For more please visit https://gyclaser.en.made-in-china.com_cutting
Advantages of laser cutting.
(1) Good cutting quality. The slit width is narrow (generally 0.1--0.5mm) and the surface roughness of the slit is perfect, could be welded without polishing. (2) Fast cutting speed, The heat affected zone is small (3) Environment friendly.
What kinds of Laser in your Machine?
It is fiber laser cutting machine, wavelength is 1064nm, good for metal cutting.
What is the difference between Fiber laser and Co2 laser?
It will be a long story, Fiber laser good at cutting metal, the wavelength is of co2 laser and fiber laser are different, the wavelength of fiber laser is around 1064nm and co2 laser is 10640nm, the

absorption rate

is influenced by the wavelength of the laser, please review below photo.
Normally we use Co2 laser 60-150w for cutting nonmetallic materials such as wood, acrylic, leather, fabric etc., if the co2 laser power up to 1kw-5kw it could use for cutting metal too.
And, we offer fiber laser 500w -1.5kw for cutting different metal material, such as stainless steel, carbon steel, Iron, brass, Aluminum etc.
How this Fiber Laser cut in Metal?
Very good, we can say the fiber laser is born for metal cutting because metal have high absorption rate of fiber laser, and it is cost of running much lower than high power Co2 laser.
Does this kind of laser dangerous?
Absolutely not, it is safe, we designed the machine in 8 aspects (Security, Culture, Value, Aesthetic, Quality, Service, Save, Experience), the Security will be always the priority and the most important thing we need to be consider.
Any Radiation from the laser machine?
The radiation of the fiber laser cutting machine is similar to that of the computers, mobile phones, televisions and copiers.
How is the market of laser cutting?
"fiber laser revenues cracked the $2 billion level, turning in a 34% increase over 2016."
The revenue growth of high power fiber lasers, used heavily in sheet metal cutting, lifted this laser technology to 47% of total industrial laser sales in 2017. Couple this with laser metal cutting representing 35% of all laser revenues, and it becomes obvious why laser metal cutting, a key component in the fabricated metal product sector of manufacturing used throughout the world, is a metric in a country's gross domestic product (GDP)
What about the investment for buying one machine?
For the machine just about the cost of the machine, the cost shipping
For the whole project, need to invest for the factory and the infrastructure of the factory, such as the Electricity system, gas system, gantry crane, and the team.
What are the advantages of laser cutting compared to CNC punching?
The CNC punching is good for simple design, for example if you have many circle holes need to cut, then CNC punching will be faster,
Laser cutting is ok for any design and any thickness metal sheet cutting, it is an ideal for creating shapes with a number of small features, curves and details. Most of the fabrication center we can find both laser machine and CNC punching, sometime not just one.
What are the differences between Fiber laser cutting and plasma cutting, water jet cutting?
Cost of Machine: European Fiber Laser>Water jet>Plasma
Operating Cost: Water Jet>Laser>Plasma
Cutting Quality (Result): Plasma>Laser>Water Jet
Precision: Water Jet>Laser>Plasma
Fiber laser cutting:
Is better for cutting metal, Thick steel cost more, High precision.
Plasma cutting:
No matter cutting Thin steel or Thick steel, but cutting quality
water jet cutting:
Almost cut Everything, but very slowly.
What materials can be cut by this Fiber Laser Cutting Machine?
Most of the fabricator use it to cut Stainless steel, Carbon Steel, Mild Steel, Iron, galvanized steel, sometimes they cut Aluminum and brass too,
And some customer uses it to cut gold, silver for jewelry production.
What is the thickness the machine can cut?
We would like to say different power source can cut different thickness material, it is related to material and gas pressure. for example, 1kw IPG laser source max cut 12mm CS, and 5mm SS, for details please write us for a table sheet of material, laser power, speed, gas etc.
How many options of laser source? What are the differences?
Normally we offer IPG, RAYCUS, MAX, differences is the cost and the cutting quality, we have experience of all the laser source, and we will recommend different power source based on customer's needs.
Any different optional laser heads? What are the differences? auto focus and manual focus?
For the Laser head we use WSX, RAYTOOLS, LASERMECH, PRECITEC, and All the tube have manual focus and manual focus options, we will use different brand laser head depends on different laser power.
which operating software would be used in your machine?
Priority option is Cypcut controller, Economic cost and great performance,
But we the other options are available.
Dimensions of machine
Model: 1530FD
8500mm*3300mm*18500mm
How do I choose the machine right for me?
You just need to be sure how much thickness of steel that you need to cut, we will recommend you model right fit to your projects.
What are the running conditions of fiber laser cutting machine? Does it require air conditioning?
Temperature of machine: 5-45

ºC
Temperature of laser source 5-25

ºC

, humidity

≤ 70%
We recommend to offer air conditioning to the fiber laser source at least.
Will there be a lot of dust in the process of using the machine? What we can do for it.
Yes, there will be metal cutting dust, we will offer Exhaust fan to the Exhaust the dust away the factory, if you need the air filter system, please contact with us, or you can buy from local vendor.
What is the running cost of the machine?
Just need to think about the Electricity, gas and spares, not too much, different cost in different power, please write to us and we will back you details.
Does it require assistant gas for cutting? What is the pressure?
Yes, Oxygen, Nitrogen and High-pressure air,
Normally we can say as below,
Oxygen assistant cutting to get black cutting edge, require pressure 10kgs to cut Carbon steel, mild steel.

Nitrogen assistant cutting to get white color cutting edge, require 15kgs-20kgs pressure to cut Stainless steel

Air compressor offer high pressure air up to 16kgs to cut Stainless steel to get brown color edge.
Does your machine stable to use?
Sure,
our machine uses the industry lathe, Electronic parts, motors are world top quality, fiber laser source are IPG, RAYCUS and MAX.
welcome to visit GYClaser to check every detail by your eyes.
What is the life span of the machine and how long is the warranty?
5years warranty of the machine lathe, 2 years of the electronic parts and laser, excluding spare parts.
What are the consumables? and what is the life span of them?
Spares parts is Nozzle, Protective lens (protective windows), Ceramic ring
When it gets damage will need to be changed, depends on the material and the para you use, normally 2pcs Protective lens a week, but when you test new material, the piercing test will damage more protective lens.
Nozzle only when the melt slag stick on the nozzle and make it damage, normally 2pcs a week,
For the ceramic ring only when the laser head hit the table or the steel will make it crack, normally no need to replace, but we recommend to keep on as spares.
Does the machine require on-site installation and training?
Yes, you can send your engineer to our factory to finish the training, and we could offer local installation and training in your factory.
Does the price of the machine include on-site installation, and training?
Depends on the machine you buy, we will clear it with you of the Visa, Hotel, Food, Tickets and salary of Engineer
How long can I learn to know how to operate?
That will not be difficult, if you have basic knowledge of AutoCAD. Anyway, 3-5 days basic training will be offered to you if you buy the machine.
What is the voltage used for electricity consumption? Does it need a power stabilizer and UPS?
It is 380V 50HZ, if your factory have power-down problem, we recommend to buy UPS system and the Power stabilizer to ensure the machine working stability.
Can you provide OEM service?
Yes, we can offer OEM service to our customer with some conditions, welcome to discuss the details.
What kinds of working areas option of the machine?
We offer 1500*3000mm, 1500*4000mm, 2000*4000mm, 2000*6000mm, 2500*6000mm etc.
Can I customize the size I want?
Yes, welcome to talk with us and we will back you R&D support.
What are the colors of the machine? Can you customize the color we want?
We offer two options of machine color, Grey/white, Red/white
Customize is available depends on the MOQ.
What is the cutting speed of the machine?
Cutting speed related to thickness and laser power, please check the real working video from our YouTube channel to get some ideas.
What is the precision of your laser cutting?
Position Precision 0.05mm, slit width 0.1-0.5mm
Which file formats does the machine support?
.cdr/.plt/.ai/.dxf/.dwg etc.
Machine software compatible to AutoCAD.
How long is the delivery time?
Normally 40 days, if customized machine we will inform you.
What are the payment methods?
TT, LC and Cash
The machine is HUGE, how do we transport it?
Sure, it should be shipped by sea, we have logistic partner to handle it.
Have you exported to Europe?
Yes, our different type of laser machines has been exported to 80 plus countries of the world, Including Germany, UK, Czech, French, Poland, Spain, Italy etc.
What are the accessories for the machine?
Machine along with water chiller, Exhaust Fan, and we offer Air compressor-design for laser cutting, power stabilizer, Air filter as options for customers.
Which certifications does the machine have?
CE, SGS
Do you have other Metal fabrication machinery such as Press Brake, CNC shearing, CNC punching, etc.?
Sorry to tell you that We manufacture laser cutting machine only, but we know some friend company which is my pleasure to share with you.
What about the after-sales service?
We offer free training in our factory,
24/7 online service, TeamViewer assistant is available.
Local installation and training are available in your country,
We have local service center in India, Thailand, Colombia and Mexico.
What are the conditions and processes if I want to be a representative of

GYClaser in my country?
Yes, there are some conditions for both of us, welcome to visit us and start ours cooperation.
Which industries are the machines suitable for?
Metal forming, Metal Fabrication, Stainless steel industry, Machinery Manufacture.
What factors affecting the precision of laser cutting?
Machine quality
1. The quality of the laser beam- the high-quality laser beam offers high processing precision
2. The stability of Machine bed-heavy machine lathe with top quality servo motor driver and linear guides to make sure machine is stable in fast speed cutting.
The external factors,
1.Materials, even you are cutting the same thickness steel, sometimes different batch steel will get a bit different cutting result, so we need to balance the para to get a perfect performance.
2.Gas, nozzle, protective lens,
The purity of the gas and the stability of the gas pressure have a great influence on the quality of the cutting.
A nozzle if dirty or damage will change the focal length of the beam, which affects the cutting quality. In addition, if the protective lens is not clean, it will affect the penetration of the beam, and lead to a bad cutting.
So, it should be recognized that the accuracy of the laser cutting machine is not only related to the equipment itself, but also to external factors. For Example, the Cutting parameters according to the specific processing materials, the correlation between the laser power, focus position, cutting speed, auxiliary gas etc. And the experience of the operator is also very important.