WC67Y-400TX6000 Hydraulic Press Brake
PRODUCTION DESCRIPTION
1. Steel welded structure, vibrating treatment to remove the inter stress
2. Two cylinders controlling beam's vertical moving
3. Mechanical torsion synchronization
4. Integration hydraulic system
5. Motorized back gauge with digital show
6. T style screw controlling back gauge
7. Mechanical crowning device
8. Standard punch and die
9. Foot pedal with emergency stop button
TECHNICAL PARAMETER
| | | | | |
| --- | --- | --- | --- | --- |
| NO. | NAME | PARAMETER | UNIT | NOTE |
| 1 | Nominal Force | 4000 | KN | |
| 2 | Length of working table | 6000 | mm | |
| 3 | Strength of shearing sheet | ób≤450 | Mpa | |
| 4 | Throat depth | 400 | mm | |
| 5 | Ram stroke | 250 | mm | |
| 6 | Max open height | 560 | mm | |
| 7 | Main motor power | 30 | KW | |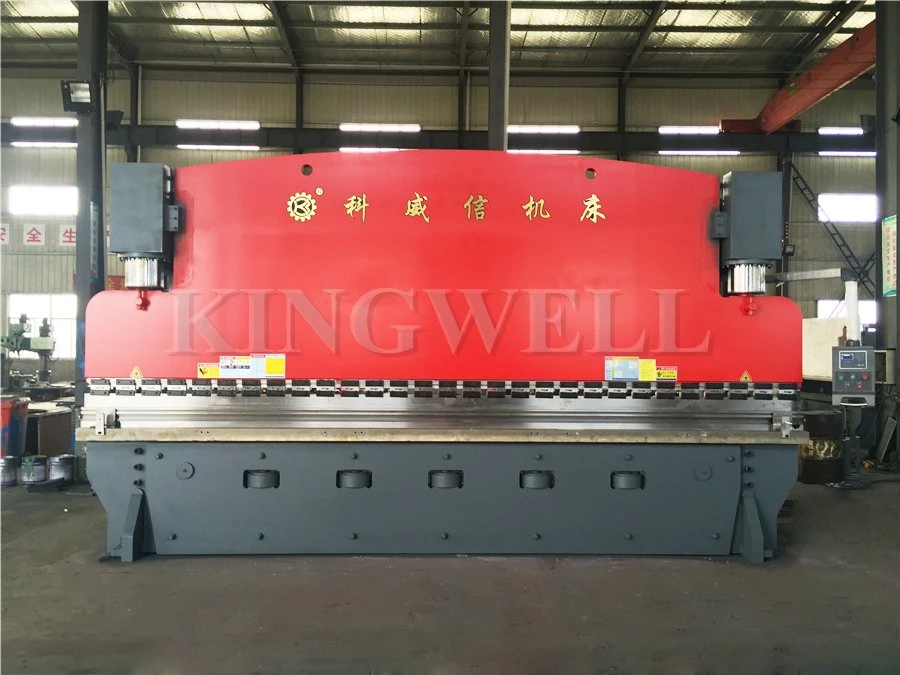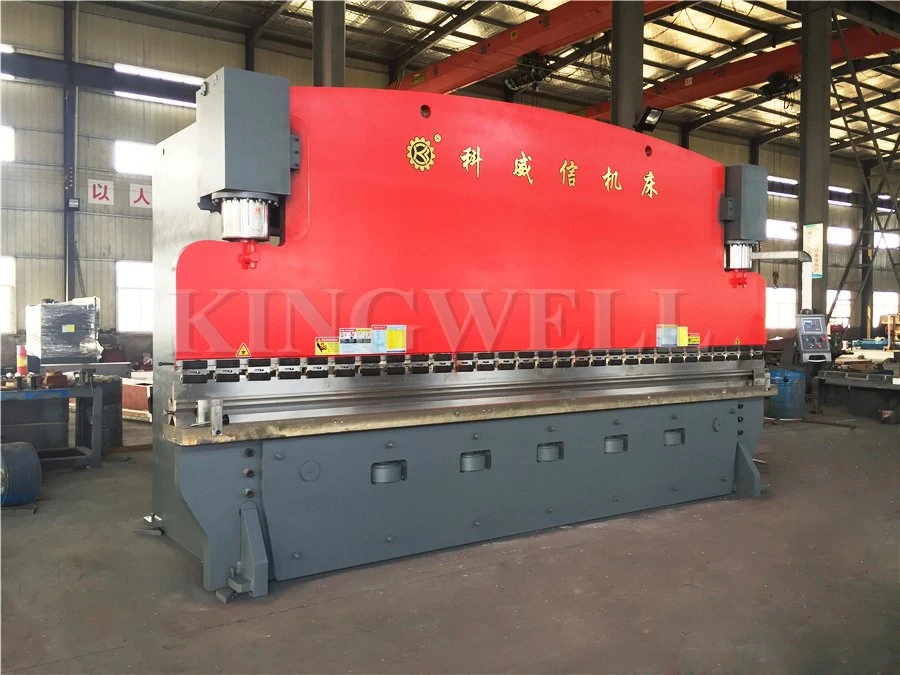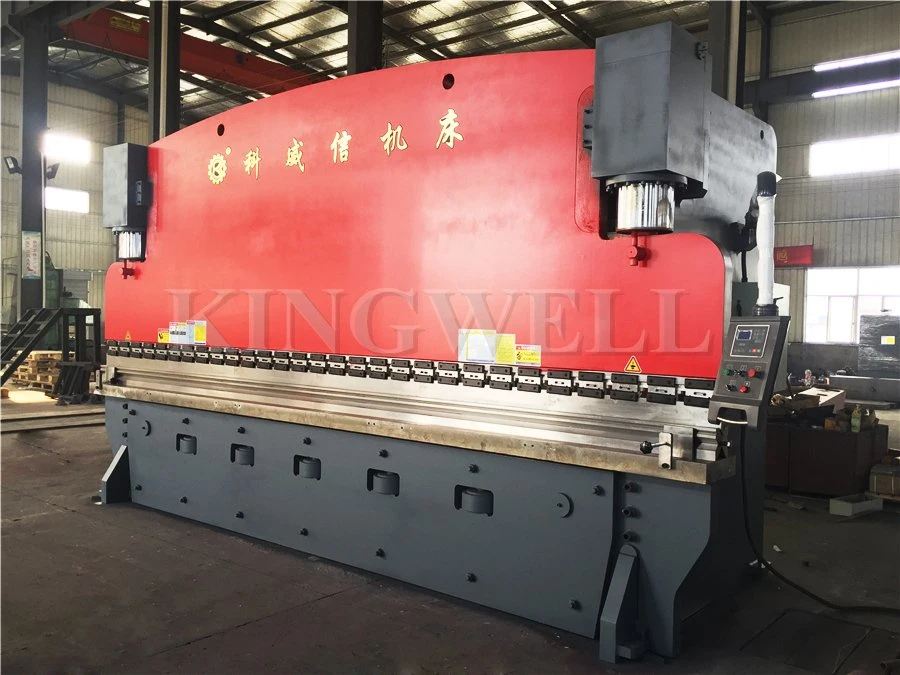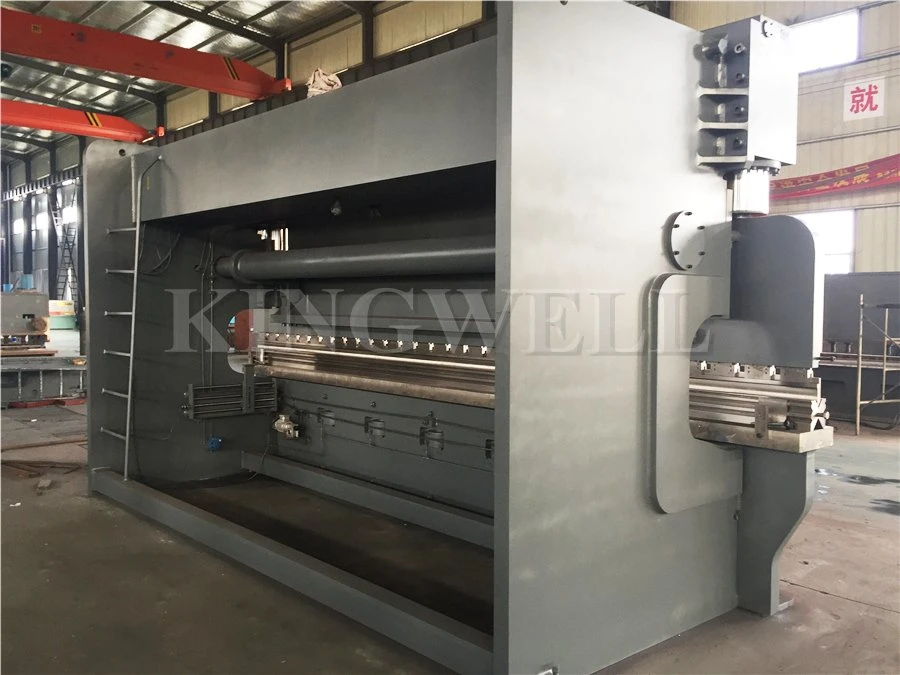 OTHER MODEL OF PRESS BRAKE
No

Model

Pressure




KN

Bending




Length (mm)

Columns




Distance (mm)

Open




Height (mm)

Throat




Depth (mm)

Slide




Stroke (mm)

Motor




Power (kw)

Machine




Size (mm)

1

40T/2500

400

2500

1900

210

200

110

4

2600x1270x1980

2

63T/2500

630

2500

1900

235

250

120

5.5

2600x1360x2050

3

63T/3200

630

3200

2600

235

250

120

5.5

3300x1360x2050

4

80T/2500

800

2500

1900

320

320

150

7.5

2600x1400x2380

5

80T/3200

800

3200

2600

320

320

150

7.5

3300x1400x2380

6

80T/4000

800

4000

3100

320

320

150

7.5

4100x1400x2380

7

100T/2500

1000

2500

1900

330

320

150

7.5

2600x1400x2380

8

100T/3200

1000

3200

2600

330

320

150

7.5

3300x1400x2380

9

100T/4000

1000

4000

3100

330

320

150

7.5

4100x1400x2380

10

100T/5000

1000

5000

4100

330

320

150

7.5

5100x1400x2380

11

125T/2500

1250

2500

1900

330

320

150

7.5

2600x1400x2380

12

125T/3200

1250

3200

2600

330

320

150

7.5

3300x1400x2380

13

125T/4000

1250

4000

3100

330

320

150

7.5

4100x1400x2380

14

125T/5000

1250

5000

4100

330

320

150

7.5

5100x1400x2380

15

160T/2500

1600

2500

1900

400

320

200

11

2600x1550x2580

16

160T/3200

1600

3200

2600

400

320

200

11

3300x1550x2580

17

160T/4000

1600

4000

3100

400

320

200

11

4100x1550x2580

18

160T/5000

1600

5000

4100

400

320

200

11

5100x1550x2580

19

160T/6000

1600

6000

4800

400

320

200

11

6100x1550x2580

20

200T/2500

2000

2500

1900

435

320

200

15

2600x1650x2900

21

200T/3200

2000

3200

2600

435

320

200

15

3300x1650x2900

22

200T/4000

2000

4000

3100

435

320

200

15

4100x1650x2900

23

200T/5000

2000

5000

4100

435

320

200

15

5100x1650x2900

24

200T/6000

2000

6000

4800

435

320

200

15

6100x1650x2900

25

250T/2500

2500

2500

1900

435

320

200

18.5

2600x1750x3070

26

250T/3200

2500

3200

2600

435

320

200

18.5

3300x1750x3070
MAIN COMPONENTS
1.
Main seal:
Valqua CO. (Japan)
2.
Main electric parts:
Schneider (Germany)
3.
Casting connector:
Cast CO. (Italy)
4.
Oil pump:
Hongyuan (Shanghai)
5.
Hydro-cylinder:
Hengye (China)
6.
Motor:
Siemens (Germany)/Xinyu (China)
CNC/NC SYSTEM AND CONTROL
(OPTIONAL)
Kingwell has much experience in CNC Press Brake. Our sales machine including CYBELEC 8 Axis automatic Electronic-Hydraulic synchronization machine. We can design different requirement for axis control with both 3D and touch-screen needs.The CNC including torsion synchronization and also Electro-hydraulic synchronization two kinds and also two linked press brake under electro-hydraulic or both mechanical synchronization.
Kingwell always can find out the most cost-effective way between so many normal system brand like ESTUN/DELEM/CYBELEC.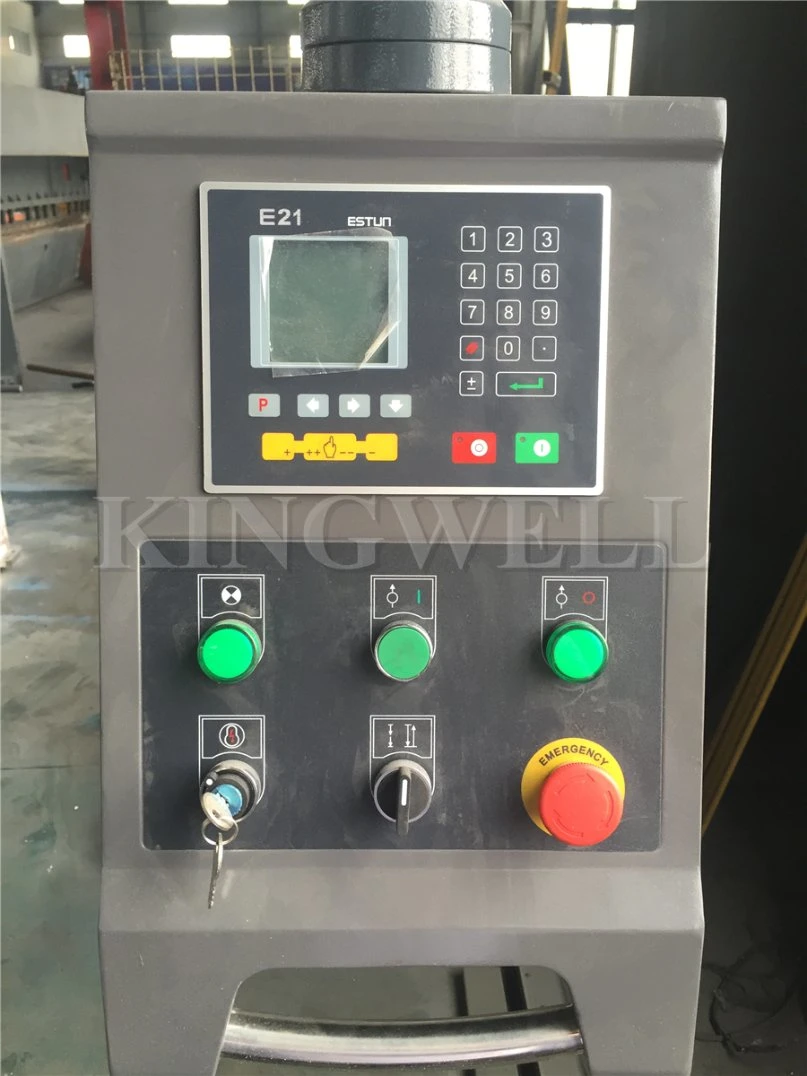 ESTUN E21 CONTROLLER
QUALITY WARRANTY & AFTER SERVICE
Guarantee Period:
One year for whole machine.
After Service:
The manufacturer support twice operating training, first one is at my factory during the processing time, second one at the buyer's factory during the re-installation/testing period. We will send our engineers go to buyer's factory help to re-install this machine if customer required, and the customer need to pay for their flight tickets( go and back), room and board, local travel cost
FAQ
How about your machine quality? We are worry about the quality.
Kingwell is a mature brand in CHINA, through our many years research in technology, our design including structure and detailed sercurity and precision has enhanced greatly, and can match all the CE standard or more strict standard.Our machines distribute worldwide to about 50 countries where there are metal plate industry, there are Kingwell. And where there are our machines,there are good reputation and terminal user satisfaction.
Whether the machine price can be more discount
?
Kingwell always provide high quality machine, as we know, oversea market is more important and difficult than domestic market because of communication time costing after sales, So always, our machine has enough quality standard to make sure the machine can work more than the real warranty period. In this way, we will save a lot and think in advance for the clients.
Actually Kingwell also think about our price level, we are sure to provide quality=price and price=quality, the matched price and acceptable for the clients and durable for our machines. We welcome your negotiate with us and get a good satisfaction.
How about your factory in CHINA
?
Kingwell located in HAIAN COUNTY, NANTONG, JIANGSU Province who is the leading area in China and also in the worldwide as the center of the metal plate processing machines, we have worked about 20 years in this area and totally have about 100 staffs. Rich experience in this field with professional technical supporting and oriented service.
We welcome your visit to us any time.
Do you accept L/C payment term?
Yes, we accept 100% L/C at sight and T/T.